Contributors mailing list archives

RE: Petty Cash Odoo App
by
-
25/09/2020 03:43:37
Hi Team,
Kind follow up on my queries below. Hope to hear from you soon.
Thank you.
Best regards,

Santa G. Anicete, Senior Accountant

Millennium Technology Services Group Phils., Inc., Unit 3 2nd Floor SMCI Bldg. Emilio Jacinto Corner Ninoy Aquino Avenue, 2023, Clark Freeport Zone, Pampanga

Tel +63 45 499-8206, Direct +63 45 499 8209
From: Santa Anicete
Sent: Wednesday, 23 September 2020 1:21 PM
To: contributors@odoo-community.org; accounting@odoo-community.org
Subject: Petty Cash Odoo App
Hi Team,
Good day!
We are testing the Petty Cash Application below in Odoo v12, please help to verify the following queries.
Can we generate petty cash voucher from the app?
Can the app support the request of petty cash expense under Vendor Bills of Accounting Module?
Looking forward for your feedback.
Thank you so much!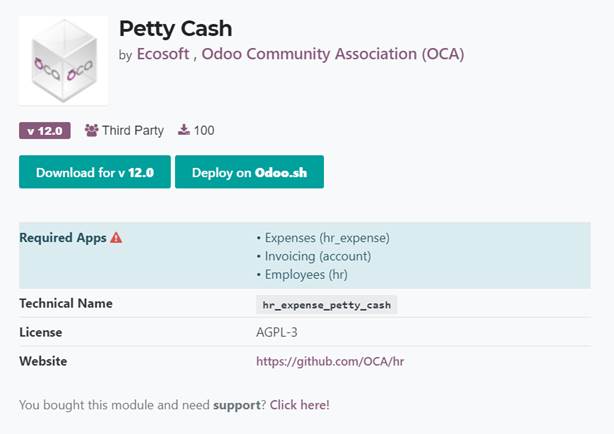 https://apps.odoo.com/apps/modules/12.0/hr_expense_petty_cash/
Best regards,

Santa G. Anicete, Senior Accountant

Millennium Technology Services Group Phils., Inc., Unit 3 2nd Floor SMCI Bldg. Emilio Jacinto Corner Ninoy Aquino Avenue, 2023, Clark Freeport Zone, Pampanga

Tel +63 45 499-8206, Direct +63 45 499 8209
Reference
by

-

23/09/2020 07:20:46

- 7