Goodbye runbot, welcome runboat
Contributors mailing list archives

Goodbye runbot, welcome runboat
by
Acsone SA/NV, Stéphane Bidoul
-
27/01/2022 18:04:27
Dear contributors,
As you may have noticed, a new tool arrived in the OCA landscape: runboat.
It is a runbot replacement that is specially tailored to OCA needs. Its key feature is that it prepares Odoo environments from GitHub commits, and once they are initialized they are kept in a dormant state, ready to start in seconds when needed for testing. This way we can have a very large number of environments ready to use (up to 10 000 on our current machine), so there is a great chance that the branch you want to test is readily available and there is no wait for functional people wanting to contribute.
It is currently enabled for branches 10 to 15. And the test environment corresponding to each PR or commit is linked as part of the GitHub checks (look at the red cross or green check mark).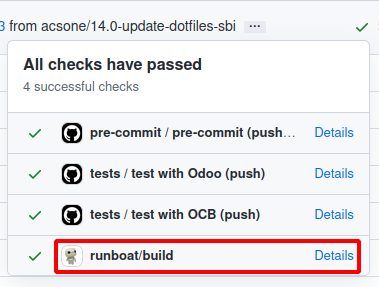 Soon, links to runboat will be added to the README.md files of all repos for branches 13, 14 and 15.
It is currently not enabled for branches older than 10, although in principle it should work for 8 and 9 too. If you need it and want to help make it happen, do not hesitate to get in touch on discord.

Since runboat is proving to work very well and is much more resource efficient than runbot, while at the same time providing a better user experience, we can now shutdown runbot, in order to save on OCA server costs.

With the help of Alexandre Fayolle, we are going to do that in the coming weeks, so prepare to say goodbye to runbot!

In the meantime, if you notice issues do not hesitate to get in touch by @ mentioning me on the PRs for which the runboat build would fail and you don't readily understand why or how to fix it. This will also help prepare for the move from Travis to GitHub actions which we are also planning in the first part of 2022.
I also monitor the OCA Infrastructure discord channel from time to time.

Best regards, and happy testing!
-sbi